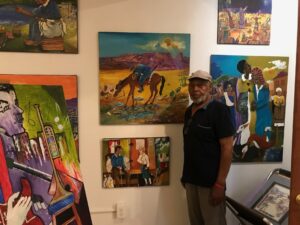 Everna Lee Taylor - The Art of the Story
After a 39 year hiatus, this self taught artist only recently resurrected his innate ability to create his own brand of art. In the course of the revival, Everna believes that the absence of formal training actually worked in his favor. He is void of any inhibitions thus allowing him complete freedom of expression without being shackled to any one style or medium. Actually, Everna has vigorously avoided labels and has never considered himself an artist in the traditional sense. He prefers to be thought of as a "pictorial story teller" The depth and intensity of the stories in his works are limited only by the interpretation of the viewer.  Source: fineartamerica
Reading a good book supplied by the family library and watching a good movie, first at the drive-in, then on the little small black and white television set my parents owned were our form of entertainment for many a year. When the television set graduated to one that showed color, we thought we had arrived. This page is devoted to the books and movies plus the music that is associated with the important media in the life of "A Pixie From Kilmarnock."
Music for "A Pixie From Kilmarnock"
Click on the LP above and listen to the drop!

I love music; who doesn't?  'The Jukebox' will feature music of all genres, from many sources; the in-house concerts with friends from around the neighborhood, festivals, up and coming artists, oldies, goodies, new wave, jazz, all things sweet to the ear. 
A Tribute From "A Pixie From Kilmarnock"
Welcome to Jaycee's World.
James Cleveland Curry aka "Jaycee" was born in May of 1929 to the late Marcus Alzono and Mary Elizabeth Gibson Curry, the third child of 19 children at the beginning of The Great Depression.
He attended Jones Runn Elementary School and graduated from the historic Julius Rosenwald School, Reedsville, VA.
He married the love of his life, Shirley Mae Hill of White Stone, VA. "Jaycee" and Shirley were both the children of watermen.
My father harvested the bounty of the Chesapeake Bay and its surrounding waters as an independent commercial waterman; fishing, tonging for oysters, and crabbing.
Despite the long hard hours, unpredictable weather conditions and hardships endured in a segregated society, he found time to organized baseball teams to play with neighboring county teams. He also coached the neighborhood boys to play baseball, football and basketball, usually as a player himself, giving no quarter to anyone.
My father wrote beautiful poetry, and intense essays that could rival any Pulitzer's Prize writer of his time and present day.
He was a Marine serving in one of the first integrated platoons, and was in combat in the Korea Police Action.
His passion and dedication to serve continued by serving twenty-two years with the Northumberland County, VA Wetlands Board, District 3 and the Department of Social Services, from 1980-1989, and as their Chairman of the Board, from 1987-1989. One of his favorite duties was participating in the Meals-on-Wheels program, visiting and sharing with those who were receiving the service.
He was an avid member of the Northumberland Booster Club and a member of "The Chain Gang" during Northumberland High School home football games. They are the folks that mark off yardages on the field.
He loved Country and Western music; loud and proud. The Blues. Westerns, particularly "Rawhide," "Have Gun, Will Travel," and "Gunsmoke". Sunrises. NASCAR with Kyle Busch as his favorite driver, "The Andy Griffith Show," The New York Giants…and a good meal!
It is with pride, love, and respect, that I dedicate this page to my father, who was truly a talented writer.
Click on the pen above to read the unedited works of a writer who was a waterman.