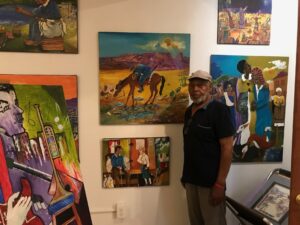 Everna Lee Taylor - The Art of the Story
After a 39 year hiatus, this self taught artist only recently resurrected his innate ability to create his own brand of art. In the course of the revival, Everna believes that the absence of formal training actually worked in his favor. He is void of any inhibitions thus allowing him complete freedom of expression without being shackled to any one style or medium. Actually, Everna has vigorously avoided labels and has never considered himself an artist in the traditional sense. He prefers to be thought of as a "pictorial story teller" The depth and intensity of the stories in his works are limited only by the interpretation of the viewer.  Source: fineartamerica
Reading a good book supplied by the family library and watching a good movie, first at the drive-in, then on the little small black and white television set my parents owned were our form of entertainment for many a year. When the television set graduated to one that showed color, we thought we had arrived. This page is devoted to the books and movies plus the music that is associated with the important media in the life of "A Pixie From Kilmarnock."
Music for "A Pixie From Kilmarnock"
Click on the LP above and listen to the drop!

I love music; who doesn't?  The 'Jukebox' will feature music of all genres, from many sources; the in-house concerts with friends from around the neighborhood, festivals, up and coming artists, oldies, goodies, new wave, jazz, all things sweet to the ear.