So here we go with "The Book and The Movie," sometimes referencing the music, the cast; whatever made it memorable to me.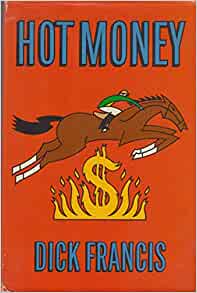 The book: "A classic mystery from Dick Francis, the champion of English storytellers. Malcolm Pembroke didn't get rich without making a few enemies – not least among the five wives and nine children left like wreckage in his wake. But when Moira, his fifth wife, is murdered and Malcolm believes that someone is out to get him, he knows of only one person he can turn to: his estranged son, Ian. Ian – an amateur jockey – wants nothing to do with his father until it becomes clear the old man's life is in danger. And worst of all the evidence suggests it's from someone in the family. Can Ian work out who it is before they strike again?"
Dick Francis' books have the uncanny ability to treat you to many levels of exploration into different worlds; you may be in the stables in Manchester but you might also, within the same story, learn about rare wines, or the banking industry, or an ancient recipe. 
Another lure is the reappearances of characters in a totally different book.  
Dick Francis books are fantastic. It was hard to pick one book from the many of the former Queen's champion steeple chaser turned author. 
One of my guilty pleasures is the re-reading of any of his books, with the sensation of as if I was reading it for the very first time.
PLUS, the decades old game between one of my friends, who enjoys Mr. Francis as much as I,  in  trying to understand how to eat a take-out meal of chicken wings, bacon, and bananas from his book "10 lb Penalty," to the point of asking a friend who traveled to England to find this take-out dish and give explicit details…she forgot to enquire to our dismay!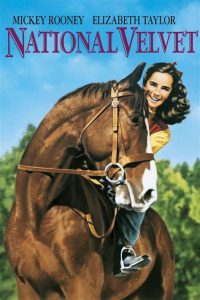 The movie: The ultimate "girl rocks the world" movie, "National Velvet."
First of all, young Elizabeth Taylor, who did most of her own stunts, to the point of breaking her back, an injury that stayed with her for the rest of her life.
Young Angela Lansbury, as one of the sisters.
And one of my favorite actresses,  Ms. Anne Revere, as the mother.
The mother, a champion English Channel swimmer, instilled in her three daughters, spirit, and confidence, even though the father, played wonderfully by Donald Crisp, tells them they have only "their faces as their fortunes."  Her mother's past glory inspired Velvet to race in the male-only Grand National steeplechase. Velvet and her horse is trained by a former jockey played by Mickey Rooney.
A must see movie for everyone!