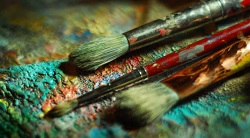 "As a youth, Everna remembers that his earliest influence in art was his mother. Her central interest was music, but she would occasionally sketch for her own amusement. Inspired by her drawings he was always happy to show her his artistic progress, but she doggedly directed him to the piano. Everna quickly discovered that using a pencil was a lot more comfortable than trying to master those black and white keys.
Living in Cleveland, Everna paid occasional visits to "Carameu House", an organization dedicated to broadening the horizons of the local youth. There, structured activities for the kids included brief overviews of different forms of art. Because of his comfort with the pencil Everna gravitated to the drawing activities and learned about shading objects. He saw that shading could alter the depth and dimension of a picture and soon began to incorporate the procedure into his own drawings, a technique he continues to use today."
"After moving to Detroit by age 10, Everna attended a school that requested his participation in a number of art projects that were ultimately used as large seasonal displays in Detroit's downtown department stores. Encouraged by the experience, Everna entered a widely advertised "Draw Me" contest and as a result received periodic solicitations to attend "Art Instruction School". Being keenly aware of the family's impoverished condition, he declined the offer. The offers to attend continued well after he enlisted in the Navy at age 18. Having explored other talents and pursued other interests, Everna's time for art was seldom available.
Now in his latter years, this retired seafarer stays quite busy creating mixed medium pieces covering a myriad of subjects. He particularly likes to explore ideas surrounding the dynamics of the slave trade era and the effects on today's society. In his series "Welcome to America" he has produced a number of pieces depicting his graphic impressions of what may have occurred and the culture shock the Africans undoubtedly experienced."