Faidley's Crab Cakes
It's not the Northern Neck, but I claim it as part of my culinary hometown, the city of Baltimore, MD.
That being said, to me,  there is no better crab cake (I consider myself an expert to make this statement!) than the crab cake at Faidley's in Lexington Market in Baltimore, MD located in the Inner Harbor area.
https://www.faidleyscrabcakes.com/
They will ship these beauties* anywhere in the country, cooked or not. I recommend cooked, meaning that the beautiful coloring from a nicely deep fried crab cake becomes a 30 second microwave warm-up to a taste of heaven.
All jumbo lump crab meat…and they are HUGE!!!!
But if you are adventurous, and JUST happened to have a container of jumbo lump crab meat hanging out, from the Grande Dame herself, here is Mrs. Devine's recipe.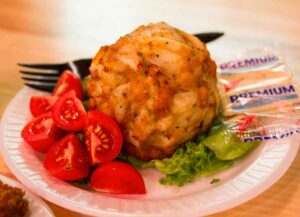 Ingredients
½ cup mayonnaise

1 large egg, lightly beaten

1 tablespoon Dijon mustard

1 tablespoon Worcestershire sauce

½ teaspoon hot sauce

1 pound fresh lump crab meat, drained

1 cup crushed saltines (about 20 crackers)

1 quart vegetable oil

Tartar sauce (optional)
Directions
Instructions Checklist
Step 1

Stir together first 5 ingredients; fold in crab meat and saltines. Let stand 3 minutes.

Step 2

Shape mixture into 8 patties. Place on a wax paper-lined baking sheet; cover and chill 1 hour.

Step 3

Fry crab cakes, in batches, in hot oil in a large skillet over medium-high heat 3 to 4 minutes on each side or until golden. Drain on paper towels. Serve with tartar sauce, if desired.

Step 4

Note: To sauté crab cakes, cook in 3 tablespoons butter or oil in a large nonstick skillet 3 to 4 minutes on each side or until golden.
* In addition to shipping crab cakes, they will ship steamed crabs, too. Check their website for other menu items that they possibly ship.
All I would need would be a Northern Neck Ginger Ale, and I would be set!